Energy
Energy Goals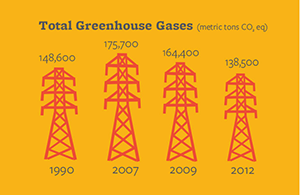 GOAL: By 2014, reduce greenhouse gas emissions to 1990 levels.
Achieve climate neutrality as soon as possible.
STATUS: On track
Overview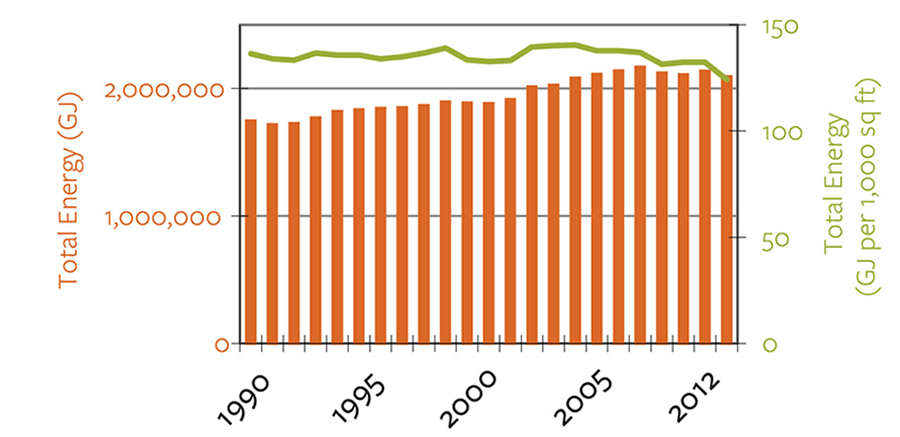 graph of total campus electricity use 1990-2012
In April 2012, UC Berkeley launched its Energy Management Initiative (EMI)  to provide a new framework for efficiency measures and to permanently reduce the amount of energy the campus uses.  Since the launch of EMI in April 2012, the project has achieved savings of almost $2.0 million  – surpassing our planning estimates – while remaining 12% under budget. Hundreds of students, faculty and staff have been involved in EMI program efforts and the program has been presented at 16 state, national, or international higher education conferences.
Over the last two years, the Energy Office has served as a catalyst and "one-stop-shop" for energy use reductions on campus. Applying a blended approach of engineering, analysis, and technical skills, the Office works across traditional organizational silos to achieve its goals.
The Energy Incentive Program  (EIP) is achieving electricity savings by giving Operating Units (OUs) a financial incentive to implement energy-saving measures. OUs receive monthly meter reports indicating actual consumption relative to their baseline allocation and will soon receive end-of-year statements and incentive payments totaling $870,000.
Software that shows real-time energy use  for campus buildings has been installed in over 100 buildings. Ultimately the campus will have over 140 live dashboards, which help to visualize cumulative impact of individual energy savings.  Analytics also provide real-time feedback on building-level interval data, which helps with identification of anomalies and addressing large system malfunctions. Used in this latter context, dashboards have already yielded savings of $67,000 across campus.
The myPower outreach campaign  publicizes specific energy-saving actions that individual faculty, staff, and students can take. In addition, the myPower Resource Center provides interaction between project staff and campus stakeholders on ways to save energy.
Spotlight: Projects and Initiatives
Campus Energy Efficiency Projects Have Saved Over 26 Million kWh
In the years of 2006-2013, the campus has funded over 100 projects under its Strategic Energy Plan to reduce energy usage in new and existing campus buildings. In partnership with PG&E, these projects--which range from lighting to commissioning to heating and ventilation--are also expected to have saved close to 1 million therms of natural gas annually, resulting in annual cost savings of over $2.5 million.
Winter Curtailment Doubles Energy Savings
For almost two decades, much of campus has taken a long break at year's end in order to curtail energy use. This year, the Energy Office included significantly more buildings in the program. The myPower program also expanded their outreach to include a Curtailment Checklist that made it easier for the last person in a building to prepare for the break. Due to these and other efforts, the campus used $110,470 less energy, almost double the savings achieved during last year's curtailment.
A Clear Vision of Sustainability
Although the School of Optometry is recognized as one of the top optometry schools in the country, it should also be recognized for its efforts in sustainability and energy efficiency. Out-going facility manager Linda Schmidt has been proactive in following up on Strategic Energy Plan (SEP) projects, resulting in additional energy savings. Linda's successor, Cliff Lobberegt, prompted the Energy Office to perform lighting retrofits and also established a curtailment program for Minor Hall, which reduced use by an astonishing 70% over this past winter break. In addition to the facility managers, the student organization Green Eyes promotes sustainability throughout the school by encouraging environmentally friendly policies, teaching educational seminars, and providing a composting service for the facility's clinics. Read more.
How to Use Less Energy in Labs
Did you know that labs comprise over 40% of the total campus energy use? Shut the Sash, an educational campaign and competition run in Tan Hall, focused on educating lab users about how shutting the sash of a fume hood can save both energy and money. PowerSave Green Campus worked with the Lawrence Berkeley National Laboratory's Paul Mathew and the Western Cooling Efficiency Center to produce effective energy savings through an education campaign and a competition incentive. The UC Berkeley team put up flyers, conducted surveys, and sent out emails to encourage behavior change. 
Campus Initiatives
Energy Highlights
An energy management system that controls ventilation, temperature, lights, and operating hours is used in 70 buildings on the main campus.
UC Berkeley received a City of Berkeley Energy Benchmarking Award in November 2012.
The student-run Berkeley Energy Resources Collaborative  (BERC) hosts an annual energy symposium.
Residence hall competitions to reduce electricity consumption and CFL exchanges are held each semester.
The Cal Energy Corps is an undergraduate internship program created to engage students in the design, development, and delivery of sustainable energy and climate solutions around the world.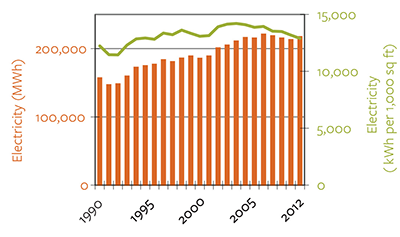 graph of campus electricity use 1990-2012