Built Environment
Built Environment Goals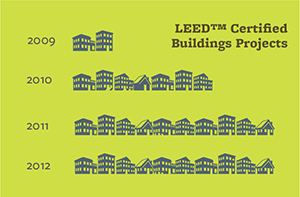 GOAL: Design future projects to minimize energy and water consumption and wastewater production; incorporate sustainable design principles into capital investment decisions; base capital investment decisions on lifecycle cost, including the cost of known future expenditures.
STATUS: On Track
Overview
The campus currently has ten (10) LEED™ certified building projects, representing almost 7% of total square footage.
Ten more projects--some recently completed and some in construction--are registered and expected to be certified by 2015, reflecting 850,000 square feet more of LEED™ certified campus space.
Campus construction projects follow the U.S. Green Building Council Leadership in Energy and Environmental Design (LEED™) system for green building performance. Major projects are designed to achieve LEED™ Gold, and required to achieve Silver certification at a minimum.
New building and major renovation projects are required to outperform local energy codes by at least 30%
Though not mandated, the campus encourages innovation in specific projects around the use of low-flow plumbing fixtures. Irrigation standards now incorporate the use of weather sensitive irrigation systems. 
A new Energy Use Policy outlines energy conservation schedules for heating, cooling, and ventilation; lighting; equipment, including computers; construction and renovation projects.
The Policy also establishes an aspirational "No Net Increase" energy goal, meaning the proposed project would not result in an increase in the building's metered energy use. 
Spotlight: Buildings
Overall Sustainable Design Best Practice Award: UC Berkeley, Maximino Martinez Commons
The newly-opened Maximino Martinez Commons (MMC) Residence Hall won a Best Practice Award for Overall Sustainable Design at the California Higher Education Sustainability Conference. MMC is certified LEED™ Gold and is named in memory of a longtime staff member. The award was given for "demonstrat[ing] exemplary integration of design principles with the building's purpose." The building features include natural ventilation and daylighting, and performs at almost 50% better than code requirements.
Li Ka Shing Wins a "Go Beyond" Award from Labs21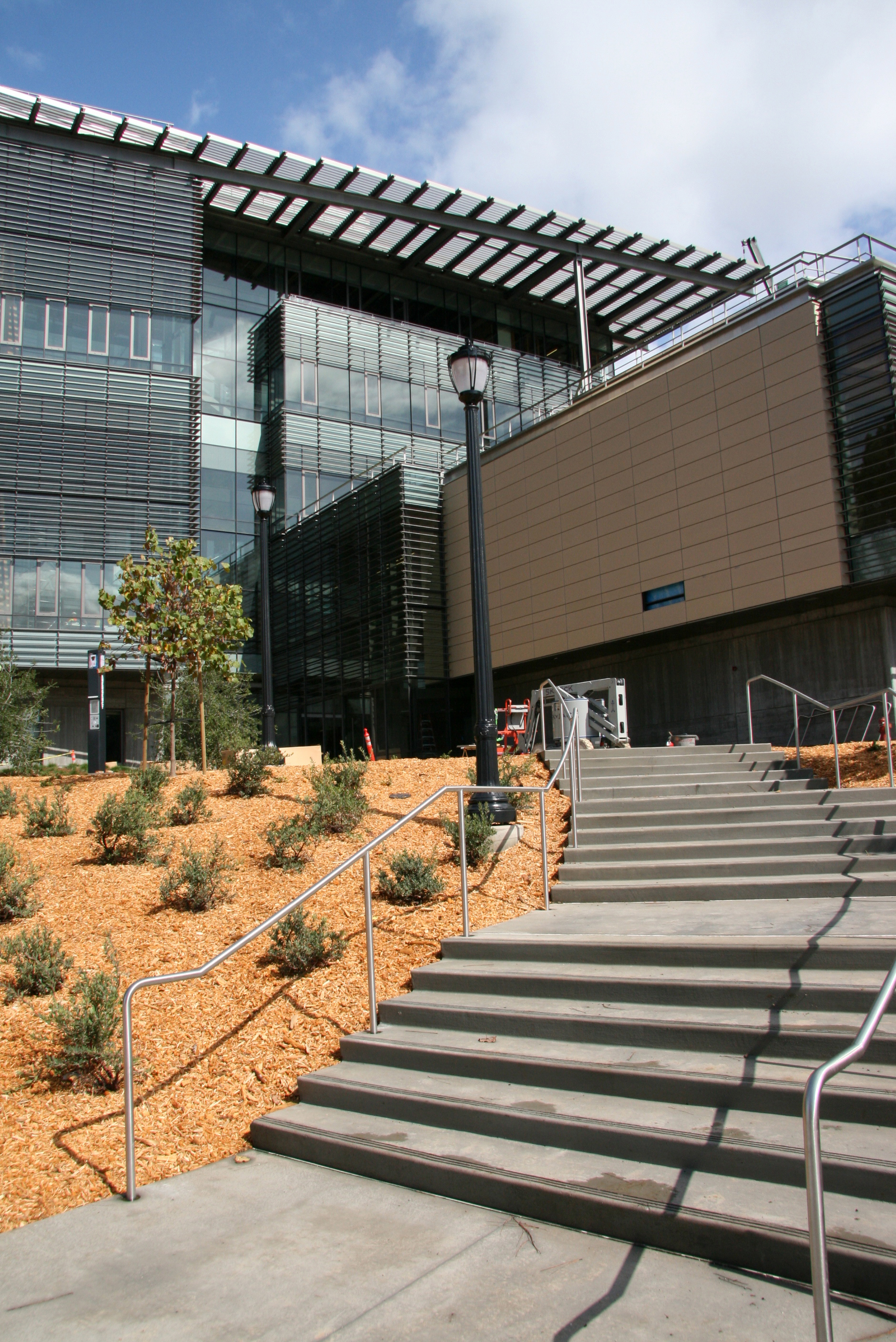 The Li Ka Shing Center for Biomedical and Health Sciences was honored with a new construction award for its sustainable innovations. The Center is a 200,000-square-foot science building that houses a vivarium, brain imaging center, teaching laboratory, 300-seat auditorium, conference rooms, interaction areas, and offices. The center was built to Labs21 Environmental Performance Criteria guidelines and attained LEED™ Gold certification. Its sustainable features include a high-performance envelope, advanced daylighting and controls, reduced air changes in laboratory spaces, low-pressure-drop filters, night purge ventilation, and variable frequency drives on all motors.
Alumnae Hall and PG&E "Savings by Design"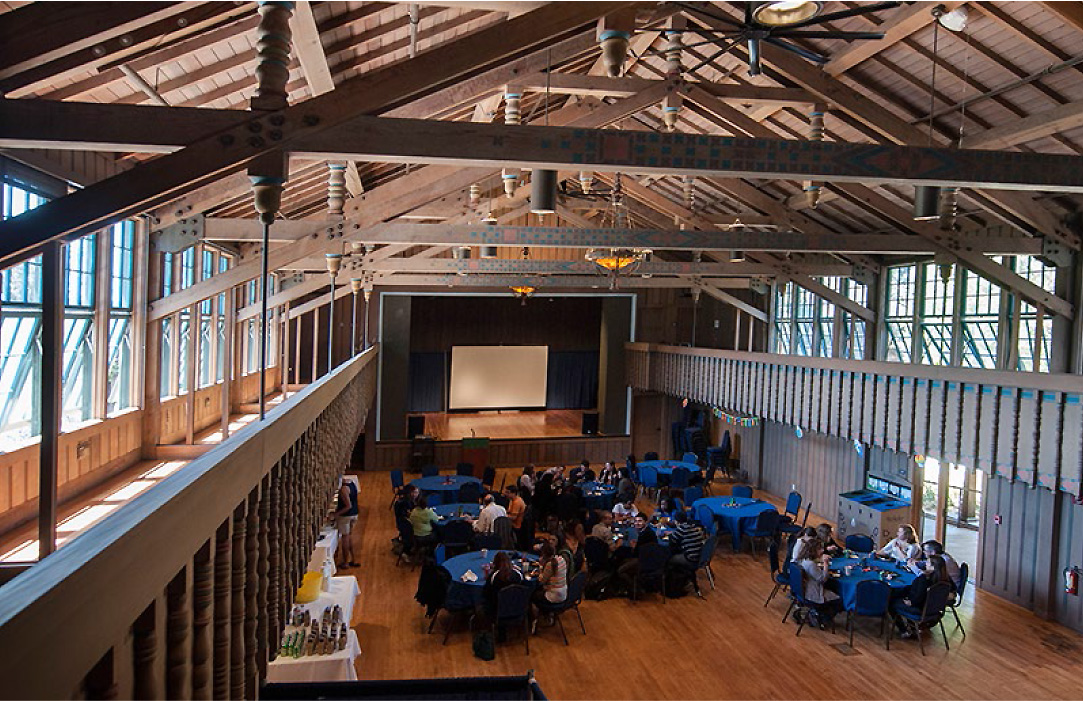 Alumnae Hall on Haste Street, adjacent to the new Anna Head student housing, has been renovated and seismically upgraded. The project is notable in that it is the first campus project of its small scale to participate in the PG&E Savings by Design program. The Alumnae Hall project was designed to perform 10% better than required by code.
Savings by Design, a program administered by California utilities, encourages high-performance, non-residential building design and construction. Berkeley receives financial incentive to help offset the costs of energy efficient buildings. 
Campbell Hall 
This new seven story, 89,000 square foot facility is designed to meet sustainability and energy efficiency goals and to achieve LEED™ Gold (New Construction) certification. The upper levels will house low-intensity laboratories, academic offices, instructional spaces, and a rooftop telescope observatory. The lower level will incorporate low-vibration physics research laboratories and associated support functions. 
The building's structural system has unique sustainable properties based on the use of a mixture of fly ash and slag in concrete (15% slag and 40% fly ash), and incorporates post-tensioned concrete walls that return to plumb after a significant earthquake, achieving a cost savings of more than $400,000 ($4.50/square foot) and improved performance.
UPGRADED CLASSROOMS PROMISE STUDENT-FRIENDLIER EXPERIENCE
The renovation of 37 general-assignment classrooms in 10 buildings — Barker, Barrows, Evans, Hildebrand, Latimer, LeConte, Tan and Wurster halls and Donner Lab and Genetics and Plant Biology — targeted improvements in functionality, aesthetics, and comfort. Old furniture, fixtures, and fittings were repurposed, donated, or recycled.  All paints and coatings used were low/no VOCs, and all lighting installed was energy efficient.
Campus Initiatives
Buildings Highlights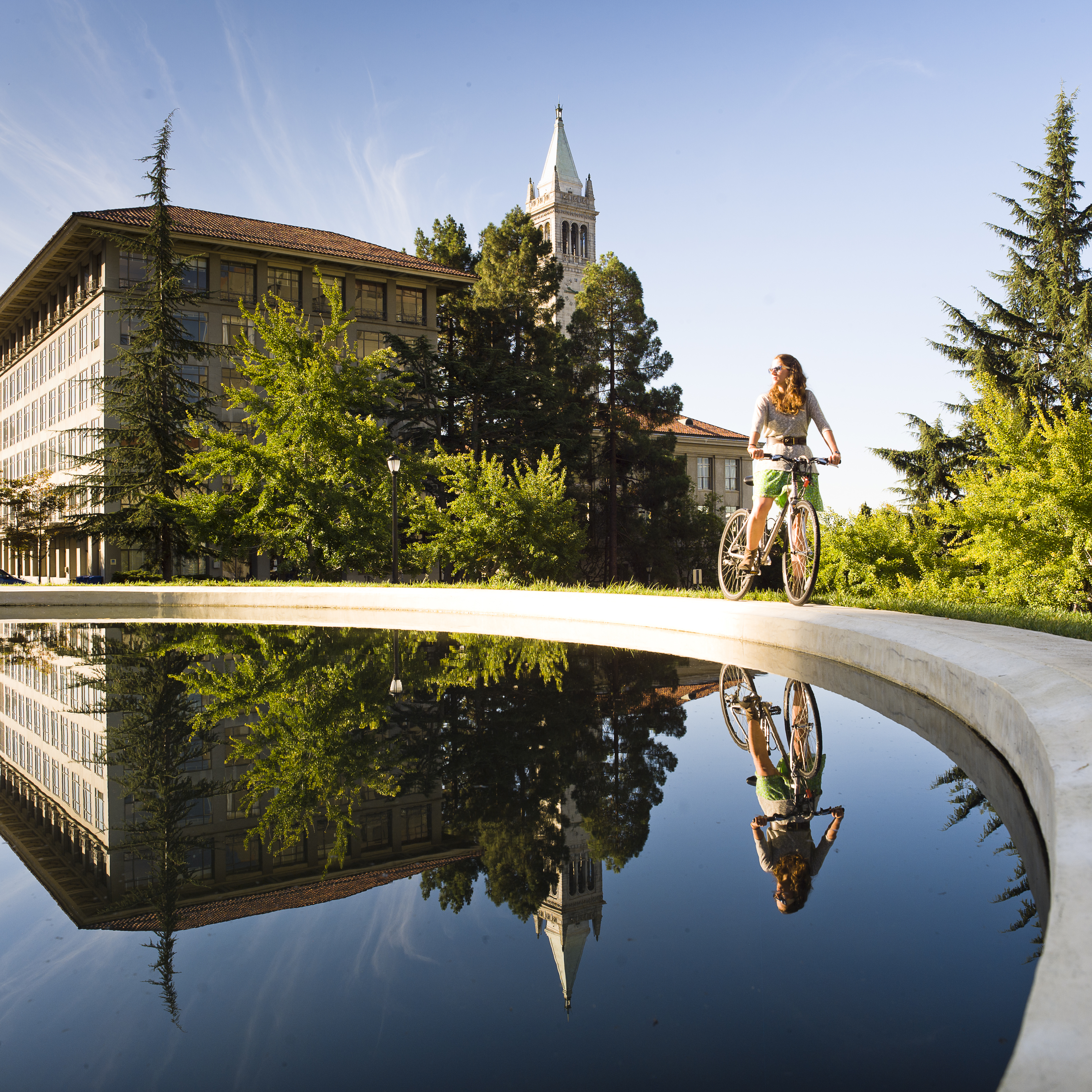 UC Berkeley has five Gold certified LEED™ building projects (four Commercial Interiors renovations and one New Construction), four Silver (two New Construction and two renovations) and one certified building project (New Construction).  A list of all LEED™ certified buildings on campus is available through Facilities Services. 
The student-run Building Sustainability @ Cal  program has developed sustainability plans for at least 28 campus departments and three construction projects.  
The campus routinely achieves almost all of the available LEED credits for Indoor Environmental Quality.
The Maximino Martinez Commons building is powered inpart by about 10,000 therms of solar water heating.