2022 Sustainability Summit
On April 19, 2022, the Earth Week signature event returned after two years on hiatus at Chou Hall, Haas School of Business. After an interactive poster session and a cooking demo, Professor Sarah E. Vaughn led the keynote speech discussing her published book, Engineering Vulnerability: In Pursuit of Climate Adaptation that examines climate adaptation against the backdrop of settler colonialism and global climate change initiatives. Students and staff were then recognized at the Sustainability Awards Ceremony for their contributions to sustainability on campus. The summit ended with a student-led campus climate justice tour along Strawberry Creek.
2014 Sustainability Summit
Full videos of the 11th Annual CACS Sustainability Summit including Sustainability Awards and Saru Jayaraman's keynote speech on Food Justice can be seen 
here
and Chancellor Dirks' opening remarks
here
.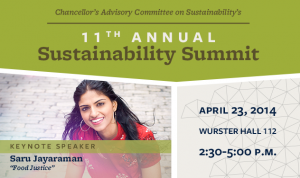 11TH ANNUAL SUSTAINABILITY SUMMIT: SARU JAYARAMAN ON FOOD JUSTICE


Saru Jayaraman is a Berkeley Food Institute Visiting Scholar and the co-founder and co-director of 
Restaurant Opportunities Centers United
. She was recently named one of CNN's 
10 Visionary Women
, who noted that she "has spent her career fighting for service workers to get a fair wage in a respectful, safe environment".
2014 CACS Summit Video
The 2013 10th Annual Sustainability Summit
The 10th Annual Sustainability Summit was a great success and featured Dr. Mike Biddle, a plastics pioneer and co-founder of MBA Polymers, as the keynote speaker. During the summit, the Chancellor offered remarks and introduced this year's sustainability awardees and grant recipients were also announced.
Check out the 2013 Sustainability Summit poster.
...and the Summit Slideshow (use the space bar or forward arrow to advance photos). Photos taken by Michael Drummond.      
2013 Sustainability Summit - Hour 1: Dr. Mike Biddle's Keynote Address and Hour 2: Chancellor Birgneau's Remarks
2012 Sustainability Summit
Overview
The 9th annual summit drew a crowd - highlights of the event included the project poster session highlighting 30 campus sustainability initiatives and Chancellor Birgeneau's remarks and announcement of this year's sustainability awardees and grant recipients. A Cal Alumni panel of women now working in sustainability fields closed the summit with a thought provoking discussion on their career paths and future opportunities in the green workforce.
2012 VIDEOS
Chancellor Birgneau's Remarks: http://www.youtube.com/watch?feature=player_embedded&v=mYi0-2tcTn0
Cal Alumni Career Panel: http://www.youtube.com/watch?feature=player_embedded&v=Q8ux-9fAUQg
NEWS COVERAGE ON THE SUMMIT
AWARDEES AND GRANT RECIPIENTS
SUMMIT FLYER

CACS_Summit_2012_Flyer.pdf
2011 Sustainability Summit
Overview
Featuring the Chancellor and Keynote Address with Dr. Peter Gleick.
This year's summit began with a poster session displaying various sustainability projects funded by the CACS Green Fund Grant program and The Green Initiative Fund. Short presentations followed, highlighting sustainability achievements and efforts on campus. Then, Chancellor Birgeneau not only announced presented grants and awards, but proposed the campus' first water reduction goal. Dr. Peter Gleick president and co-founder of the Pacific Institute and UC Berkeley Alum will provide the keynote address: "The Business of Water: Moving from a Commodity to a Human Right." Dr. Gleick then offered a book signing for Bottled and Sold: The Story Behind Our Obsession with Bottled Water.
2011 VIDEOS
Chancellor Birgeneau's 2011 Remarks & Announcement of Water Reduction Goal: http://www.youtube.com/watch?feature=player_embedded&v=BvEF3ZgtWHU
Dr. Gleick's 2011 Keynote Address "The Business of Water": http://www.youtube.com/watch?feature=player_embedded&v=JR1cGx4Wjag
NEWS COVERAGE ON THE SUMMIT
SUMMIT POSTERS, IMAGES, FLYER
2010 Sustainability Summit
The 7th Annual Sustainability Summit, sponsored by the Chancellor's Advisory Committee on Sustainability, covered it all - bottled water, native plants, composting, local and organic food, and was fun and informative at the same time. The Chancellor spoke about the importance of clean and accessible water and about recent research on how the campus uses water, while a panel of students and administrators answered a wide range of questions from the audience. Students and staff also shared information on their sustainability projects through a well-received poster session. The final event gave about 500 people the chance to see an advanced screening of Disneynature's "Oceans."
2009 Sustainability Summit
Overview
 The 6th Annual Chancellor's Advisory Committee on Sustainability (CACS) Sustainability Summit was held on Earth Day in the International House. The theme, Green: The Color of Change, focused on informing, inspiring, and engaging members of the Cal Community. This year's Sustainability Summit was also the first certified Green Event on Campus.
The event began with a poster session displaying various projects funded by the CACS Green Fund Grant program. Additionally, groups supported by The Green Initiative Fund (TGIF) were displayed. Attendees learned about the goals of each project and how they were making the campus increasingly sustainable.
Next, Chancellor Birgeneau warmly welcomed attendees to the Sustainability Summit and restated his commitment to "greening" Cal's campus. In recognition those who have led campus sustainability initiatives, Chancellor Birgeneau presented the annual Sustainability Awards to Kameron Kitajima, Theron Klos, Dan Kammen, and Building Sustainability at Cal. He also presented Judy Chess with a special recognition award for her continued contributions to CACS. Lastly, he gave the first two Green Department Awards to the Department of Environmental Health and Safety and Residential and Student Services Program.
Chancellor Birgeneau's speech was followed by encouraging words from Ian Kim of the Ella Baker Center. Under the theme of "The Future of Green Policy", he spoke of how social change begins in the individual and how sustainable policies are becoming ever recognized across the nation.
The six break-out sessions were divided into two sessions with three different topics:

Regional and Campus Collaborations
Regional Partnerships to Promote Green Economic Development: The Green Corridor Partnership
How Will We Meet Our CalCAP Goal?
Water
California's Next Major Challenge
What Can UC Berkeley do to Reduce Water Consumption?
Campus Efforts
How to Reduce Your Footprint
Creating a Sustainable Food Policy
After the event, the Department of Environment, Health & Safety held a Strawberry Creek Clean-Up on campus. Participants had the opportunity to experience first-hand how sustainability in the community begins with the individual.