SURG (SDG Undergraduate Research Group)

SURG is a newly-formed undergraduate research group affiliated with the UC Berkeley Office of Sustainability and guided by the UN Sustainable Development Goals. We strive to research local cross-cutting issues, empower undergraduate voices, and increase the accessibility of research on campus.
SURG is inspired by UC Berkeley's membership in the International Alliance of Research Universities (IARU). As a group, we provide student-driven opportunities aimed at connecting students with university global leadership on sustainability. The group conducts student-led research focused on UN Sustainable Development Goals in order to take action on the major challenges of our time, expand undergraduate leadership in topics of interest, and increase transdisciplinary learning of these issues. Undergraduate researchers will join working groups that tackle an area of sustainability tied to the UN SDGs, contribute to a collaborative research report, and present their findings to key stakeholders. 
Through its undergraduate leadership on sustainability, SURG tackles one of the key missions of IARU itself: "to add value by providing opportunities to students and staff that would not arise otherwise."
Interested in joining? Fill out the SURG Interest Form.
To learn about current research projects, visit: https://surg.berkeley.edu/ 
Contact email: surg.berkeley@gmail.com

SURG Projects
SDG Mapping of UCB Sustainability Courses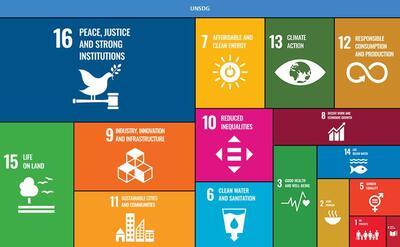 SURG partnered with the UC Berkeley Office of Sustainability & Carbon Solutions to further explore UC Berkeley's role as an institute of higher education in promoting the United Nations Sustainable Development Goals (SDGs). SURG was inspired to expand on the findings of over 600 sustainability courses by mapping the list to the United Nations Sustainable Development Goals (SDGs). 
Based on the data, UC Berkeley covers UN SDG 16 (Peace and Justice) thoroughly, with about 22% of the courses being primarily and secondarily related. The weakest UN SDG represented in UC Berkeley's sustainability curriculum was SDG 4 (Quality Education), with only .4% of the courses being at all related. 
With academic and extracurricular efforts, the UC Berkeley community can help guide the direction of university leadership in advancing the SDGs. 
Background & Inspiration
In the Summer of 2018, an innovative new course by IARU (The International Alliance of Research Universities) debuted, titled "COP4: Borderlands". Over the duration of about 4 weeks, the collaborative effort between UC Berkeley, the University of Copenhagen, and Chiang Mai University exposed participants to themes of progressive field research and scholar activism, centered around the idea of "Borderlands." Two of the participants from UC Berkeley, Sebastian Ong-Osmond and Kung Chen, returned to UC Berkeley for the fall semester, where along with the guidance of Khatharya Um, met with Kira Stoll, Berkeley's Director of Sustainability, and a fellow student and OS Fellow, Mikayla Tran.
Over the course of the Fall 2018 semester, the three students synthesized ideas and projects surrounding how ideas of sustainability, scholar activism, and community outreach can carry out the work of the Global Transformation Initiative here at the UC Berkeley campus. One of the ambitious projects that have been carried out is this website, allowing for the further spread of ideas and collaboration between students at all of the different IARU institutions.
Additionally, students working on the project have created a IARU-inspired student group called SURG (SDG Undergraduate Research Group), focused on empowering undergraduates to take lead on local and global environmental issues through undergraduate-led research centered around the UN SDGs.