CalCAP
System-Wide Intitiatives

Cool Campus Challenge
Last fall students, staff, and faculty across the UC system took action in the Cool Campus Challenge (CCC) to reduce their carbon footprint in response to the pressing global issues of climate disruption and to help UC meet its commitment to be carbon neutral by 2025. 
The Cool Campus Challenge - a ten week long, friendly competition between all ten UC campuses - was created through a partnership between the University of California and the Renewable and Appropriate Energy Laboratory at UC Berkeley, led by Professor Daniel Kammen.  
At Berkeley 1,750 faculty, staff and students joined the challenge!  Our collective actions will reduce 1,021,720 million of pounds of carbon emissions each year.  Berkeley had particularly high involvement of teams based on campus departments and organizations, and nominations of climate heroes. Challenge participants nominated 85 UC Berkeley students, faculty, and staff as climate heroes to honor them for their efforts.

Bending the Curve
Over 50 scholars from a variety of disciplines across the ten UC campuses are rising to the challenge meeting California's pledge to reduce carbon emissions by 40 percent below 1990 levels by 2030, and the UC's pledge to achieve carbon neutrality by 2025.
In this report, researchers present ten scalable solutions - such as targeting direct regulatory measures and regenerating damaged natural ecosystems - to make carbon neutrality and climate stability a reality. The Executive Summary of the Bending the Curve Report can be viewed here. The full report will be released in Spring 2016.

Many UC Berkeley researchers played an instrumental role in creating this report. These include Daniel Kammen (Vice Chair), Maximilian Auffhammer, Anthony D. Barnosky, Rachel Morello-Frosch, Per Peterson, Ramamoorthy Ramesh, and Lisa D. White.
UC Berkeley's Faculty Climate Action Champion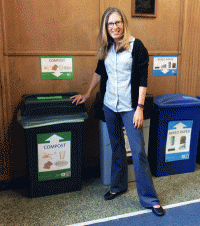 Whendee Silver was named UC Berkeley's first Faculty Climate Action Champion. The honor, for outstanding teaching, research and public service in the areas of climate change solutions, action and engagement, is part of UC's 2025 Carbon Neutrality Initiative.
In an effort to increase the amount of atmospheric carbon dioxide absorbed by ecosystems, Silver devises and tests viable approaches to slowing climate change with a focus on soils. Silver's group is working to reverse soil carbon losses from overgrazing and crop cultivation, and to lower greenhouse gas emissions in the process. "It is critical that we translate science into action," says Silver. 
The Faculty Climate Action Champion Program honors a Berkeley faculty member for outstanding teaching, research, and public service in the areas of climate change solutions, action, and broad engagement. This award provides the Champion with $25,000 to develop, improve, transform, and expand this teaching and research work.
Read the full story here.
Student Carbon Neutrality Fellows
The current student carbon neutrality fellows are Lindsey Agnew (Carbon Neutrality Education Fellow), Charlotte O'Donnell (Carbon Neutrality Student Engagement Fellow), Ben Rushakoff, (Carbon Neutrality Fellow), and Sarah Strochak (Carbon Neutrality Student Engagement Fellow). 
Student Carbon Fellow reports can be viewed here.
The fellows offer educational presentations about the science and effects of climate change, as well as ways to minimize one's personal impact. If you are interested in having a presentation at your next event, please email sustainability@berkeley.edu.